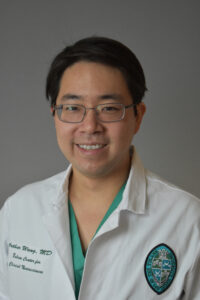 ---
Dr. Arthur Wang is a fellowship-trained neurosurgeon who specializes in cerebrovascular, endovascular, and general neurosurgery at Tulane University Medical Center. Dr. Wang is a graduate of Cornell University and Case Western Reserve University School of Medicine. He completed his neurosurgery residency at New York Medical College and a fellowship in endovascular neurosurgery/interventional neuroradiology at Columbia University Medical Center in New York City. Dr. Wang is the Director of the Division of Endovascular Neurosurgery/Interventional Neurology. As a cerebrovascular and endovascular neurosurgeon, Dr. Wang treats many vascular disorders of the head, neck, brain, and spine using both open neurosurgery and minimally invasive techniques. Additionally, he treats general neurosurgical disorders including tumors of the brain and spine. His areas of clinical interests include ischemic and hemorrhagic stroke, cerebral aneurysms, vascular malformations of the brain and spine, and carotid artery disease.
He is widely published with multiple peer-reviewed articles and book chapters in the Journal of Neurosurgery, Journal of Neurointerventional Surgery, and World Neurosurgery.
Dr. Wang believes in a close patient-doctor relationship and values his responsibility in educating his patients about their disorders.
---
Contact our office for more information or for an appointment with Dr. Wang (sees patients in Downtown and Metairie).
---