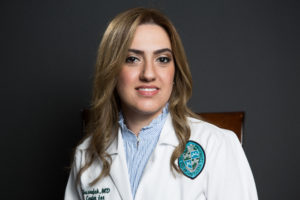 ---
Dr. Abusoufeh is a fellowship trained clinical neurophysiologist, with the expertise to evaluate and treat patients with a wide variety of neurologic disorders such as epilepsy/seizure disorders, migraines/headaches, essential tremors/Parkinsons, neuromuscular disorders, and neuropathy. She performs Electromyography (EMG) in the clinic, an electrodiagnostic medicine technique for evaluating and recording the electrical activity produced by skeletal muscles.  She also has expertise in reading electroencephalograms (EEG) performed in the clinic, a test used to find problems related to electrical activity of the brain.
Her research interests include advanced epilepsy management and epilepsy surgeries.
---
Contact our office for more information or for an appointment with Dr. Abusoufeh (sees patients in Covington).
---